Knowledge of facts, principles, process and general concepts, in a field of work or study.
A wide range of cognitive and practical skills are developed through variety of practical instruments and machine setups. These types of work making them are good mechanics using basic methodology, procedures and wide range of tools.
Desirable ideas make as assemble parts through practical skills. Understand of concept of jobs to work, search and analyse of job information and the practical issues to complete the given specified job.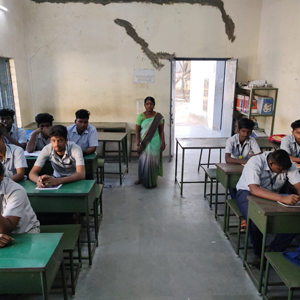 Responsibility of person is to make all the parts clean, with shortest period of time in a specified working condition of machine parts and also learn such type of work from various
Learning Outcome With Assessment Creteria
Identify and take necessary precautions on fire and safety hazards and report acoording to site policy and procedures.
Identify basic first aid and use them under different circumstances.
Avoid waste and dispose waste as per PROCEDURE
Conduct appropriate and target oriented. Discussions with higher authority and  within the Team.
Explain personnel finance,entrepreneurship and manage/organize related task in day to day work for personal & societal growth.
Utilise basic computer application and internet to take benefit of IT developments in the industry.
Professional Skill Attained By The Traniee Through Practical Training At ITI'S
Read and interpret technical parameters.
Perform to safety rules, accident
prevention
Apply professional skill, knowledge &
Check the Job/Assembly
Specific Outcome Of The Trainee
Prepare profile with an appropriate accuracy as per drawing.
Prepare electrical wire joints, carryout soldering, crimping and measure insulation resistance of underground cable.
Verify Characteristics of electrical and magnetic circuits…
Install, test and maintenance of batteries and solar cell…
Estimate, Assemble, install and test wiring system.
Plan and prepare earthing installation.
Select and perform measurements using analog/digital instruments.
Plan and carry out installation, fault detection and repairing of domestic appliances..
Execute testing, evaluate performance of DC machines.
Plan, Execute commissioning and evaluate performance of DC machines.
Machineries And Equipments That Can Be Handled By The Traniee
Hard Drill Machine, DC shut generator with control panel, Motor generator (AC to DC), DC compound generator with control panel including fitter rheostat Voltmeter, ammeter & breaker ,DC Shunt Motor, DC compound motor with starter switch single phase transformer, three phase transformer, AC series type motor
MCCB, ELCB & RCCB, OHM meter, Magnetic Flux meter, lux meter, Tachometer, AC Ammeter.